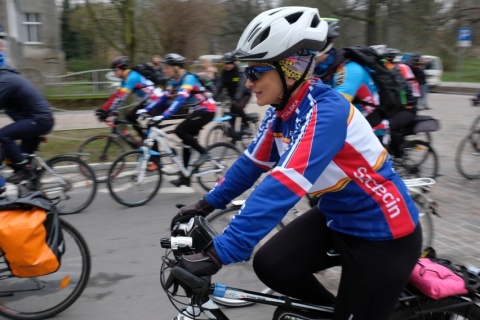 Cyclists on their way to Skåne
Just after 8 am of the first day of the Scandinavian Days, a group of nearly 100 cyclists set off from Szczecin to Malmö.
400 km, 184 nautical miles, 4 days, nearly 100 cyclists. This is the bicycle journey of the Gryfus Szczecin Bicycle Club, which has been a fixture of the Scandinavian Days for 3 years. In the previous years there were from 100 to 150 participants.
The "goodbye" event for cyclists from Szczecin was attended by Mayor of Szczecin Piotr Krzystek, Ambassador of the Kindgom of Sweden Inga Eriksson Fogh, and Ambassador of the Kingdom of Denmark Ole Egberg Mikkelsen.
 "I am glad that the Gryfus Szczecin Bicycle Club has once again organised the trip to Scandinavia as part of the Scandinavian Days," said Mayor Piotr Krzystek at the event. "Your bicycle trips to Scandinavia have already become a tradition. It is admirable that so many of you have taken up such a difficult and yet very interesting challenge.  Most importantly, I wish you a safe journey."
This year's event was extraordinary. It was so because of the Ambassador of the Kingdom of Denmark, who rode along a section of the route on his bicycle alongside other participants.
The trip is organised to promote Szczecin and West Pomerania in Scandinavia and to invite people from Skåne to visit Szczecin during the Tall Ships Races finals.
The event is under the Patronage of the City of Szczecin.