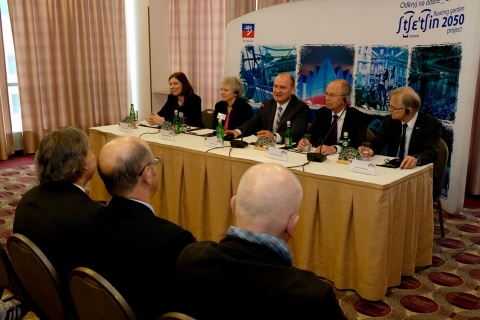 Scandinavia has come to Szczecin
Szczecin is hosting the Scandinavian Days. It is the only event of its type in Poland dedicated to Polish-Scandinavian cooperation.
This active and interdisciplinary platform of cooperation between Poland and Scandinavia is a formula which brings the regions lying on both sides of the Baltic Sea closer to each other in a modern way. Through such events as business conferences and a rich cultural package, including concerts, exhibitions and meetings with artists, participants in the Scandinavian Days can get to know our northern neighbours better.
"The Scandinavian Days are more than just four days of meetings, they are an ideal occasion to tighten Szczecin's cooperation with Scandinavian countries. It is an exceptional event on a national scale," said Mayor Piotr Krzystek. "Szczecin can take a lot from the legacy of the Scandinavian countries, but it also has a lot to be proud of. I hope that the Scandinavian Days will help Szczecin's residents to learn even more about the countries located on the other side of the Baltic Sea".
Today's conference marking the opening of the Scandinavian Days also featured talks by representatives of Finland, Denmark, Norway and Sweden. They all emphasised the good cooperation with Szczecin in business, educational and cultural aspects.
"I often encounter representatives of Scandinavian companies who have decided to run a business in Szczecin and are very glad they have made this choice. They often speak about good cooperation with Szczecin's authorities," said Ole Egberg Mikkelsen, Ambassador of the Kingdom of Denmark, during today's conference. "The relations between Poland and Denmark are not limited to business. They involve a number of other important factors, such as security. I hope that our future cooperation will be as fruitful as it has been".
Business is the central axis around which the Scandinavian Days revolve every year. During this year's business conference under the title "The energy of smart cities", experts from Poland and abroad discuss the smart cities concept.
The debate is complemented by the second Scandinavian Business Mix cooperation exchange forum. It is an opportunity for over 100 entrepreneurs to present their package and exchange business contacts.
The Scandinavian Days are more than just business, however. There was a morning event to inaugurate the bicycle journey from Szczecin to Skåne. Ambassador of the Kingdom of Denmark Ole Egberg Mikkelsen completed a section of the route. During the four-day journey, over 100 cyclists will travel 400 km and 184 nautical miles.
This year's Scandinavian Days have left a unique mark, as representatives of the Scandinavian countries planted magnolia trees. Assisted by children from the Konstanty Maciejewicz Primary School No. 56, Inga Eriksson Fogh, Ambassador of the Kingdom of Sweden, Ole Egberg Mikkelsen, Ambassador of the Kingdom of Denmark, Johanna Birkstedt, Counsellor-Minister of the Embassy of the Republic of Finland, and Kjell Arne Nielsen, Commercial Advisor of the Embassy of Norway, planted trees which were given the names Heidi, Pippi, Sigrid and Miina.